National Chess Day Savings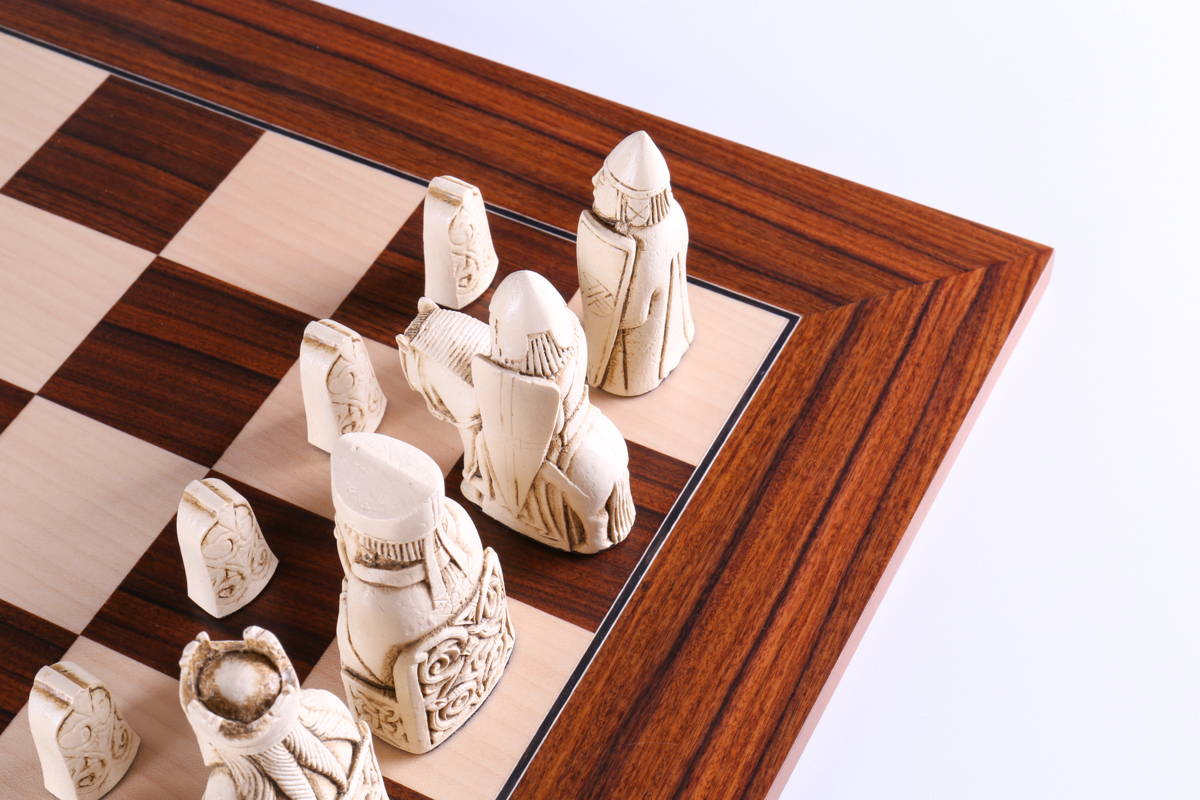 Free Shipping
on orders over $75 to U.S. 48 States
90 Days
no hassle returns or exchanges
Be delighted
We guaranteed your satisfaction!
Here are the iconic Isle of Lewis chess pieces on a fine Santos Palisander chessboard from Spain.
The skilled craftsmen at Berkeley Chess have interpreted the Isle of Lewis chessmen on capturing the majesty of the original sculptures. Paired with this amazing chess board it's a fine chess set anchored in history.
These Anjanwood pieces stand out on the chessboard thanks to the ultra-heavy design and highly visible grain pattern. Skilled India craftsman have carved all 34 pieces before clear finishing to protect the unique, peppered and streaked grain patterns of the Anjun wood. Paired with Boxwood, the traditional light color for wood pieces, it's a rich pairing for players who want a chess set that both catches the eye and plays extremely well.
Entire set weighs 4.1 lb.
King height 3 5/8"
Attractive, triple-weight Pro Series pieces are ideal for casual or competitive play. They're one of the largest sets of chessmen with a tall 4 1/4" king.
Right now, when you order these pieces we're including the large 22" vinyl board and two drawstring bags!
The vinyl board has 2 3/8" squares. Extra queens; King height: 4 1/4"; Base: 1 7/8"; Pawn height: 2 3/16"; King weight: 2.2 oz; Set weight: 3.68 lbs; Board size: 22"; Square size: 2 3/8"
The following products are highly discounted, open box, scratch or dent, or one-off items that are being discounted for various reasons.
Be sure to click the product photo or title to view the item description and understand why it's being offered.
Truly one-of-a-kind chess set.
This sought after set of chessmen from SAC comes in the original gift box packaging. The design is hard to find and usually only found in private collections. This particular set (only one available) belongs to 90-year-old Warren who is downsizing his collection prior to his move to another residence. Chess House is providing an outlet for a few of his chess sets since Warren lives nearby.
This set includes #14 natural edge board a premium American handcrafted walnut chessboard. Made with American black walnut and hard maple, these Natural Edge boards are surrounded by specialty cut walnut to show the unique grain patterns and the outside edge in which the individual tree grew. The board is one of a kind and the craftsman hand selects each piece for visual beauty. Precision aligned hardwood block construction is given multiple protective finishes for a distinctive, luxuriously smooth surface. It is handcrafted in Pennsylvania.

- Natural edge just beneath the bark
- Solid maple and walnut
- 22" - 22.5" Square
- Playing field 16" x 16"
- 2" squares
The STACK chessboard is a fascinating and exclusive centerpiece, the most unique and functional chess board ever made. For those seeking extraordinary craftsmanship, innovative concepts, and the thrill of chess, it's an eye-catching conversation piece.
"I have enjoyed Chess House for years, and I appreciate their service every time."
Spencer  -  OCT 10, 2018
"I had questions about what to order and Josh was very helpful when I called. Ordering for an organization was very simple"
Christy  - OCT 11, 2018
"Amazing customer service and great products!"
Armando  - OCT 5, 2018