Rated 4.8 out of 5 by 19,770+ delighted shoppers
Frank says,
versatile and easy to use
"I set it up for the first time last night. It's is easy to use, and I was up and running in 10 minutes. The unit is solid, and the pieces are solid as well. I've heard grumbling about the quality of the pieces. They are fine, imho.
I started out using the DGT Centaur. While that is also a fun unit to use, I came to realize its limits. Unlike this unit on the Centaur cannot save games, and it is not extensible. With the Millennium you can extend its versatility with various various modular add-ons such as Chess Link.
The only real negative that I might mention is the primitive display and having to push through a lot of button pushing to get to the various set ups."
-FREE shipping in U.S. 48 states
-2 Yr Millennium Warranty & Chess House Guarantee
-Easy replacement parts
Save $180.00 - $499 after coupon EXCLUSIVE
"I have had my system for most of the year now so I think I can give an honest review. First of all, the quality is quite remarkable and first class. It looks amazing and seems to be a good size to play on. The auto detection of each piece is just plain magical. The board won't let you make a mistake on placement or moving of a piece. The LED lights on the board are subtle and help to let you know the opponents move to make plus helping you keep your move honest in case you make a mistake. What I really like about this game is that I can set the game mode such that I can win once in awhile, but not without giving you your run for the money. You really have to pay attention or the game will pounce on a bad move. The game will give you the option to take out a bad move, but don't let that be intimidating. I have found that sometimes I ignore the option to take back a bad move only to find out that my move was a great move for me. The user interface takes a little getting use to with a little learning curve time to get everything setup. Once I found the level that gives me a human like game where I win sometimes, I haven't had to change anything for awhile. To change from white to black is as simple as moving the pieces from one side to another. I did buy an extra set of pieces just in case something happened to one of the pieces that came with the game like getting lost or chews up by the dog. I also bought the battery pack and the base to set the board on. It provides a place to store everything safely, and looks great as well. This game is superbly leaps an bounds better than my 1980's Fidelity Chess Champion. I never could beat that game yet I loved playing it. This chess game is about as close to playing a real person as you can get. I was lucky and bought this game at a significant discount, but I will admit that it would of been worth the full cost. The service from Chesshouse was first class so 10 stars for them.
Pros…..everything, quality, looks, operation
Cons…..nothing yet"
Save $180.00 - $499 after coupon EXCLUSIVE
Type coupon code in checkout promo box. Discount will show in checkout.
CYBER522
Type coupon code in checkout promo box. Discount will show in checkout.
CYBER1022
Orders over $75+ to U.S. 48 states qualify for free shipping.
May be combined with other offers.

No Coupon Required
Type coupon code in checkout promo box. Discount will show in checkout.
CYBER2022
Type coupon code in checkout promo box. Discount will show in checkout.
CYBER5022
Type coupon code in checkout promo box. Discount will show in checkout.
CYBER15022
How to Use Deal Codes: Click on the offers above to reveal coupon code. If coupon code is required for a discount, type it into the promo code box in Checkout after products to your order.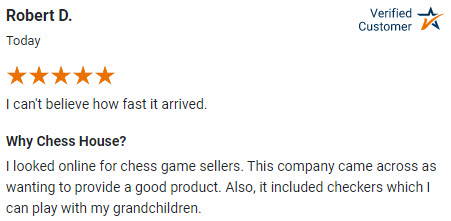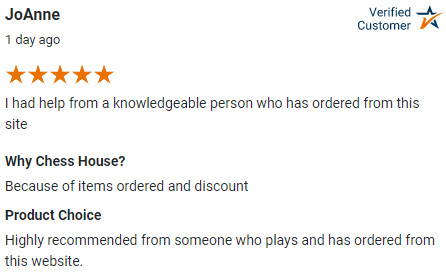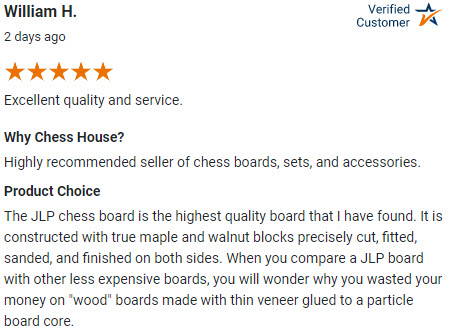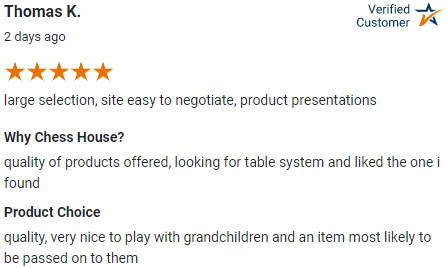 ---
Save $50.00 - $628 after coupon CYBER5022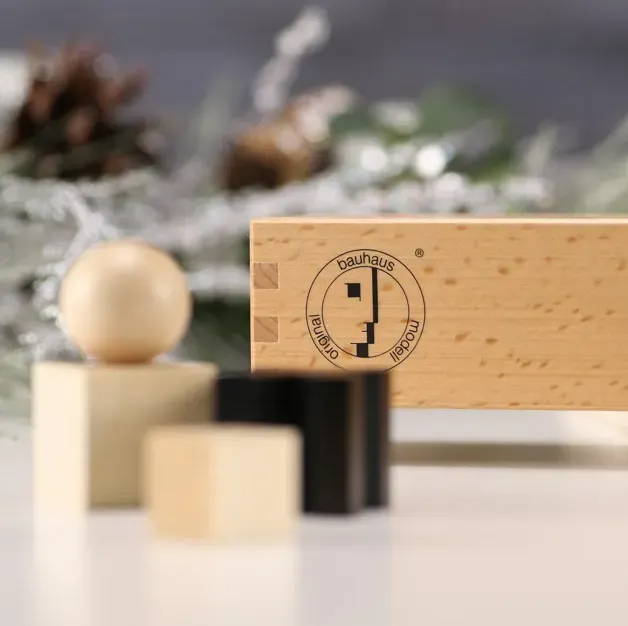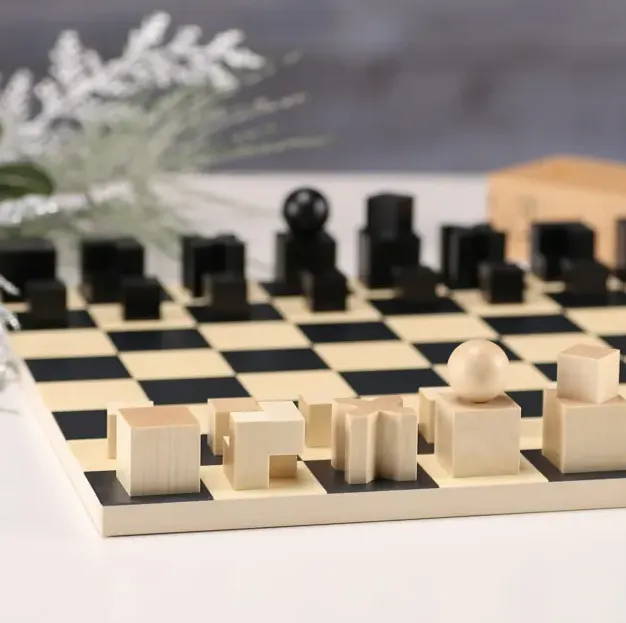 and SAVE $25
with coupon SCOUT
I'm very, very happy with these pieces. I looked high and low for an inexpensive wood tournament-sized set with good styling and proper proportions, and these pieces really fit the bill. They're nicely weighted and have a classic design. I highly recommend them to anyone looking for a wood tournament set or a first, inexpensive full-size wood set for home.
- John
As you make moves, a light press on the square is all that it takes to play the built in computer. Play at many levels and even connect it to other chess apps with optional "Chess Link".

> Play any time
> Learning openings and strategy
> Human like and adaptable play at all levels
> Exciting Chess960 variant play built in
> Future proofed with app and internet play via ChessLink Bluetooth add-on.

Save 20% - $287.20 with coupon CYM22
---
Youthful, weighted plastic pieces on our premium flex mat
Save $10.00 - $30 after coupon CY22C
Emisario Deluxe
Save $10 with CYBER1022
Quality Regulation
Save $5 with CYBER522
Inspiration Set
Choose Color & Save $10 with CYBER1022
Beautiful set
Great customer service. The package arrived on time. The shape of pieces are beautiful and simple, the colors of pieces (although it seems obvious) and the board are well-toned and elegant with a nice touch, the extra weights make the pieces very stable, and finally the sizes of pieces and the board are as described.
- Mehrdad
Hauteville
U.S. Made exquisite characters
the STACK
Elegant magnetic and suede
The craftsmanship is brilliant. It's great to have a board that I can fold into a smaller form. Creating a travel case for the whole set, ready for staycations. A quality feel and weight to the board. A simple design that shows off the engineering of the wood. Very happy with my purchase.
-Ian
Save $50.00 - $247 after coupon CYBER5022